TOXOPLASMA Western Blot IgG IgM
TOXOPLASMA WB IgG-IgM is an immunoblot assay for the Comparison of Immunological Profiles (CIP-WB) for IgG and IgM that is intended to diagnose:
Congenital toxoplasmosis at birth (D0): CIP-WB G+M between maternal blood and cord blood.
Congenital toxoplasmosis in post-natal monitoring (D+N): CIP-WB G+M between the cord blood at D0 and the child's blood at D+N.
Ocular toxoplasmosis: CIP-WB IgG between the patient's serum and aqueous humor.
The comparison of pairs of IgG and IgM strips allows to show the presence of additional bands on the strip which indicates the local antibody synthesis and infection with Toxoplasma.
Each kit is composed of sensitized and precut strips and the ready-to-use liquid reagents.
available packagings:

12 tests : #TOP-WB12GM
24 tests : #TOP-WB24GM
96 tests : #TOP-WB96GM
This assay is not intended for screening or confirmation of isolated serologies. For that application, use the LDBIO TOXO II IgG test instead (ref. TOXO II IgG WB).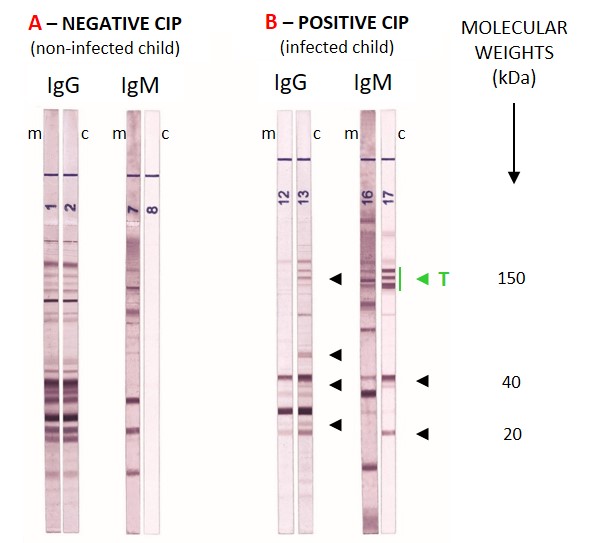 To order a product, please send us an email to our address Order with the description of the product. We ship worldwide.